(Arkansas City, KS February 3, 2023) — Eric Kurtz, President and CEO of Union State Bank ("USB"), headquartered in Arkansas City, Kansas, has announced that Nicholas Moody has been promoted to Vice President / Commercial Lender.  Moody, who offices out of USB's Bartlesville, OK branch, has served as a commercial and agricultural lender since joining the bank in 2020.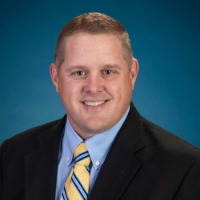 "I am honored and thankful to be a part of the USB family. Our staff and our customers make our bank truly special. I am excited to continue to serve our community," Moody said.
Moody received his undergraduate degree from Oklahoma State University, and a Master's Degree in Agricultural Education from North Carolina University. Before joining USB, he was the Agricultural Education Instructor of Oklahoma Union Public Schools in South Coffeyville, OK. Nicholas is scheduled to continue to elevate his career by attending the Oklahoma Bankers Association Intermediate School of Banking this spring. 
Moody is a member of the Oklahoma and Nowata County Farm Bureaus, an American Farmers and Ranchers member, and participates in numerous other professional associations. He is also actively involved in a variety of community events throughout the Bartlesville community each year.
"Nicholas has been a positive force for our Bartlesville, Oklahoma branch. He is managing an exceptional portfolio which is diversified in its content. Nicholas is particularly adept at building new loan and deposit relationships for the bank. I look forward to his continued professional development," stated Kurtz. 
Founded in 1908, Union State Bank has banking locations serving communities of Arkansas City, Newton, Udall, Winfield and Wichita in Kansas and in Bartlesville and Edmond, Oklahoma. Union State Bank offers a full range of electronic, deposit and cash management services, as well as business and agriculture, commercial real estate, construction, mortgage, residential and consumer loans.  To learn more, visit their website at www.MyUnionState.Bank.