Finance Forum: Expert Tips for First-Time Homebuyers
Buying a home can be an exciting but daunting experience, especially for first-time buyers who are unfamiliar with the process. Union State Bank (USB), and their team of experienced mortgage lenders, has been helping customers navigate the path to home ownership for over a century.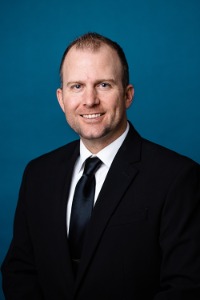 Rusty Zimmerman is one of USB's loan experts. With over a decade of mortgage experience, he has assisted dozens of first-time home buyers throughout South-Central Kansas and North Central Oklahoma.
"Purchasing a home is something most people only do a handful of times within their lifetime. How can you be expected to know all the do's and don'ts on your own, when you have never, or rarely had the experience?" questioned Zimmerman.
Zimmerman has compiled a list of tips to help first-time home buyers make informed decisions and avoid common pitfalls:
Determine Your Budget – Before you start looking for a home, it's essential to determine your budget. Consider your monthly income, expenses, and other financial obligations. Use a mortgage calculator to estimate your monthly payments and determine how much you can afford to spend on a home.
Check Your Credit Score – Your credit score plays a crucial role in determining your eligibility for a mortgage and the interest rate you'll be offered. Check your credit score and take steps to improve it if necessary, such as paying off outstanding debts or correcting errors on your credit report.
"Each loan type has different conditions and terms, including the minimum down payment and minimum credit score. A lower credit score can limit the types of loan available to a buyer," Zimmerman said.
Research Neighborhoods – The neighborhood you choose can have a significant impact on your quality of life. Research neighborhoods that meet your needs, such as good schools, easy access to transportation, and amenities like parks and shopping centers.
Get Prequalified for a Mortgage – Getting prequalified for a mortgage can give you an advantage in a competitive housing market. It shows sellers that you're serious about buying and have the financial means to do so. A prequalification also gives you a clear idea of how much you can afford to spend on a home.
"It's important to understand that a prequalification doesn't automatically approve you for a loan," said Zimmerman. "Additional information may be needed about your financial status and the property before a final determination can be made. Making major purchases, such as furniture, applying for a new credit card, or switching jobs after the initial loan application can impact the ability to close."
Work with a Real Estate Agent – A good real estate agent can be an invaluable resource when buying a home. They can help you navigate the buying process, negotiate with sellers, and provide valuable advice.
Get a Home Inspection – A home inspection is a critical step in the buying process. It can uncover hidden problems that may not be visible during a walk-through, such as faulty wiring or a leaky roof. A home inspection can also give you peace of mind knowing that the home is in good condition.
Plan for Closing Costs – Closing costs can add up quickly and include fees for title searches, appraisals, and other services. Plan for these costs and factor them into your budget.
"Everyone's cost varies, and the upfront costs associated with purchasing a home can become a real hurdle if you aren't prepared in advance. Fortunately, with open communication and advanced planning we can make sure you are prepared to reach the closing table," explained Zimmerman. 
Union State Bank is committed to helping its customers achieve their financial goals. The bank offers a wide range of financial products and services, including mortgages, home equity loans, and personal loans. For more information on Union State bank's products and services or to speak with a loan officer, please visit www.MyUnionState.Bank or call 866-557-0060.
About Union State Bank: Founded in 1908, Union State Bank has banking locations serving communities of Arkansas City, Newton, Udall, Winfield, and Wichita in Kansas and in Bartlesville and Edmond, Oklahoma. Union State Bank offers a full range of electronic, deposit and cash management services, as well as business and agriculture, commercial real estate, construction, mortgage, residential and consumer loans. Member FDIC. Equal Housing Lender, NMLS# 412388