Your home is generally your largest single asset which, over time, appreciates in value.
With a Home Equity Line of Credit (HELOC) you can use the equity you've built into your home to pay for large expense items. These items may include a wedding celebration, a dream vacation, or a child's first automobile. A HELOC can also be used to consolidate bills into one lower monthly payment, fund your dream vacation, or complete the home improvements you've always wanted.
Apply Online In Minutes!


HELOCs are available with approved credit for qualified borrowers. Income limits and other restrictions apply. Union State Bank NMLS # 412388

When consolidating bills you'll make only one monthly payment. With a simple phone call or writing of a Home Equity Check, you can have immediate access to funds.
Use the loan today to fund a larger purchase, such as a vehicle. In the future, without reapplying for a loan, you can fund your dream vacation or complete the home improvements you've always wanted. Interest paid on a HELOC may be tax deductible.*
*Consult your tax advisor for deductibility of interest.
When consolidating bills and paying off credit cards or loans with higher interest rate, a Home Equity Line of Credit SAVES YOU MONEY.
Union State Bank Home Equity Line of Credit may be available up to an 80% maximum loan to value.
HELOC vs. Home Equity Loan
While both a HELOC and a home equity loan allow you to maximize the equity within your home, they are two very different types of financing. Which one is right for you depends upon how you will use it.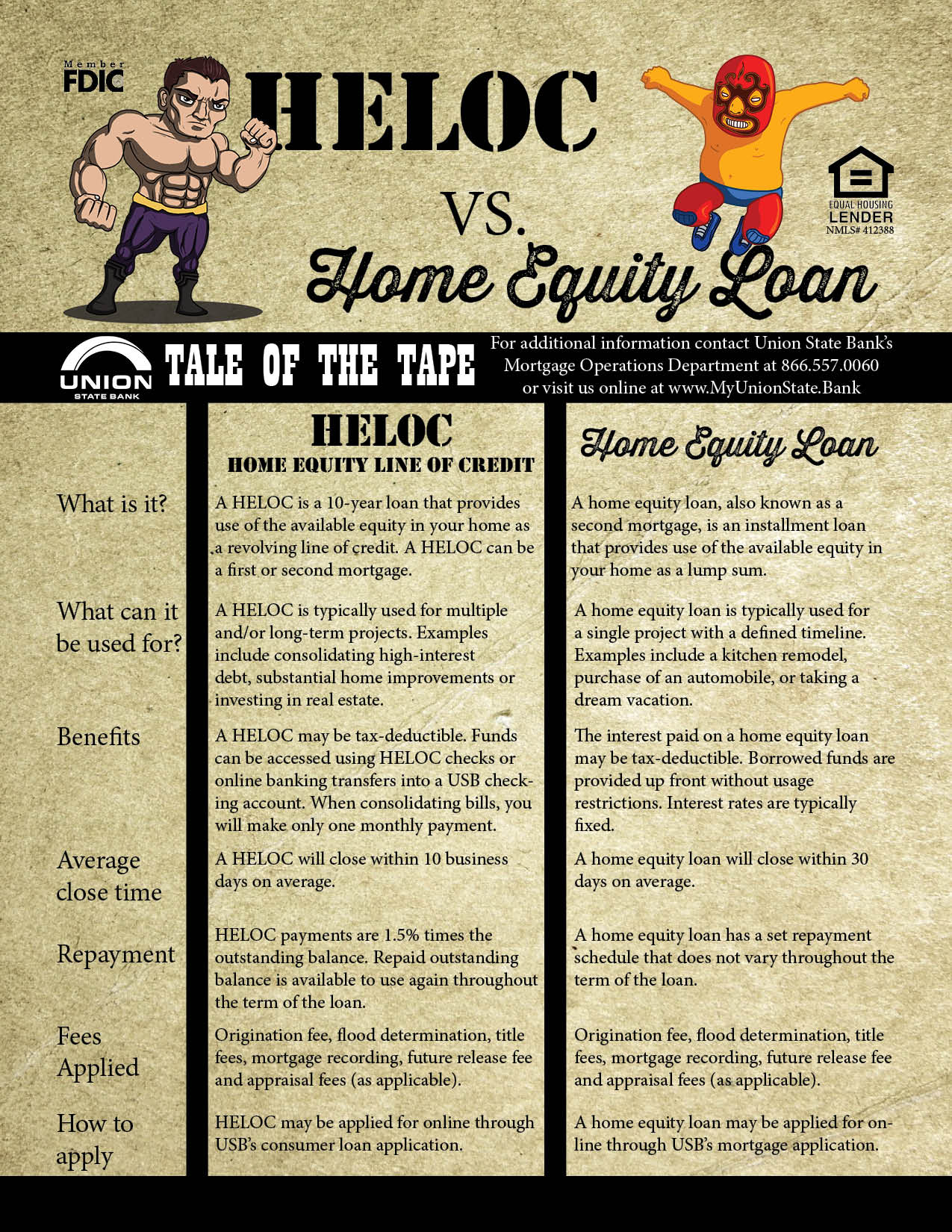 Information and interactive calculators are made available to you as self-help tools for your independent use and are not intended to provide investment advice. We cannot and do not guarantee their applicability or accuracy in regards to your individual circumstances. All examples are hypothetical and are for illustrative purposes. We encourage you to seek personalized advice from qualified professionals regarding all personal finance issues.