UUX Design
UUX stands for Unified User Experience. This allows you to access our Online & Mobile Banking on any device and still have the same "look and feel." A user can view the Online Banking on their PC or their Tablet, and the look is nearly the same.
The overall look and feel mimics our website. All menus are across the top, similar to our website. It gives you a comfortable feeling of consistency when using both.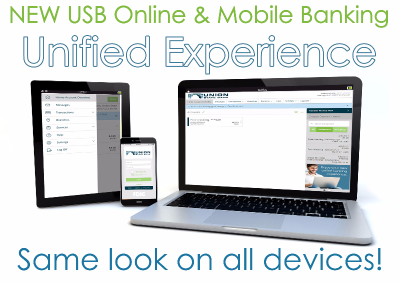 Major Visual Changes
Colors and layout look like our current website
An Account Summary is displayed as a nice graphical dashboard, including an asset summary
Menus are across the top with drop downs, instead of on the left
Secure Messaging is now a menu item called "Messages"
Menu heading "Preferences" is now "Settings"
eStatements is now under "Transactions" instead of "Accounts"
On the mobile app, Snappy is now under "Transactions"
Anywhere there is a green Pencil, that item is 'editable', such as account nicknames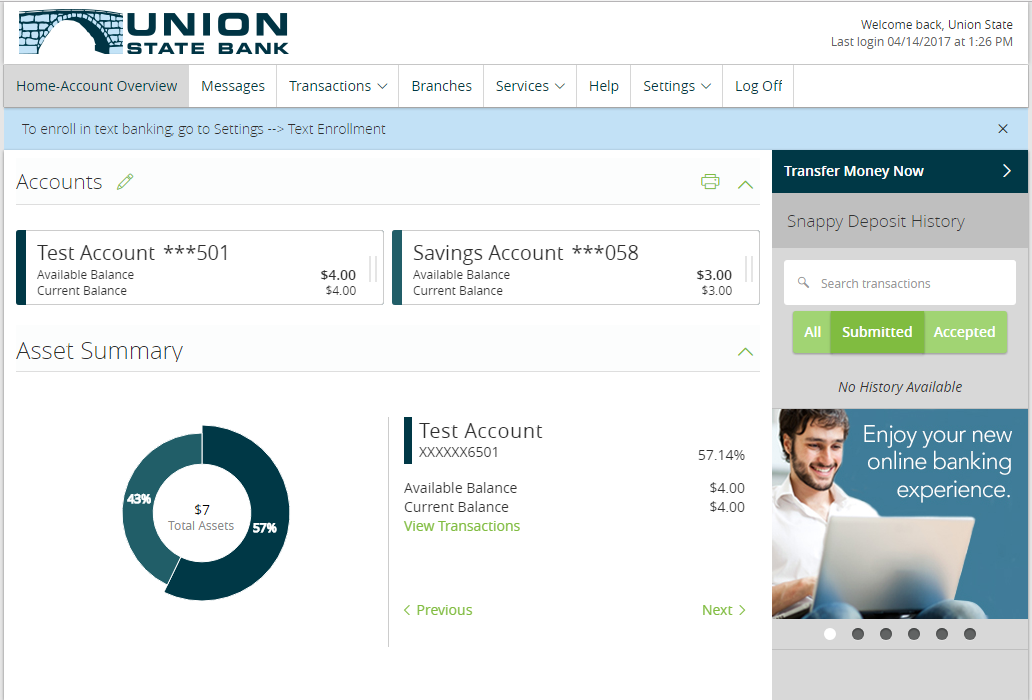 Major Capability Upgrades
Touch ID/Fingerprint login for mobile banking! No more typing in a username and password at every logon!
Snappy Mobile Deposit steps are simpler
Text Banking (Coming Soon!)
Search capability easier to use
Item images can be seen on mobile devices
Branch finder within Online Banking, as well as Mobile Banking – much easier to use
A user does not have to be enrolled in Online Banking in order to have Mobile Banking
Bill Pay on mobile has a scaled down dashboard for quick use
Ability to add a payee on your mobile device
Some pages in Online Banking and Mobile Banking include information in either a grid/block or list view
Ability to group accounts

New Online & Mobile Banking FAQs:

Is there any action required to start using the new experience?
Is my account history still available?
Yes, all of your account history is carried over to the new experience. We have enhanced the overall look and feel of account history, as well as searching/filtering functionality, but your data hasn't changed.
No, you will be able to access your online banking via browser OR mobile apps using your existing credentials.
What browsers is this compatible with?
The only browser requirement is that your browser must be HTML5 compatible. We recommend updating your browser to the latest version available-not just to ensure compatibility with the new online banking experience, but also to ensure that your online banking is as secure as possible. If you try to log in without a compatible browser you will be redirected to a website to download a new version of the browser.
Some minimally supported browsers, as listed below, may show minor behavioral or cosmetic differences, but will generally support online banking.
The minimally supported browsers are: Internet Explorer - Version 11 and below, Firefox - Version 24 and below, Chrome - Version 30 and below, Safari - Version 6 and below.
Can I use this on my phone/tablet?
Absolutely. You can download the app on any Android or Apple device, and it will provide a consistent experience with banking from your desktop. If you're on a platform that isn't Android or Apple, you can always access online banking via your HTML5-compatible mobile browser.
What is a unified experience?
A unified experience simply means that the look and feel of your online banking is consistent on all of your devices. It is intended to improve your experience by making navigation simple and familiar regardless of device.