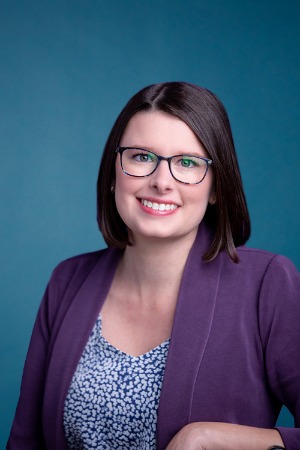 Brittany Welch of Union State Bank recently graduated from the Graduate School of Banking at Colorado (GSBC). Welch was one of 169 graduates from across the United States to earn a diploma from the school this session.
"I congratulate Brittany on an outstanding accomplishment," said Eric Kurtz, President / CEO of Union State Bank. "Brittany has been a leader at our bank and in the Newton community for over a decade. Her graduation from GSBC is the most recent example of a commitment to better serve our staff and customers."
GSBC is a three-year banking school that provides management and leadership training for community banking professionals. Requirements for graduation include comprehensive examinations, presentations and participation in a bank management simulation course designed to provide students with experience managing a bank.      
"Coming up through lending I think participating in the Graduate School of Banking Colorado gave me a holistic understanding of how the bank operates," Welch said. "What's invaluable is learning from professors and peers alike on various topics such as Mergers & Acquisitions, Fintech, Retail, Treasury, Marketing, Lending and more."                    
Welch spent six weeks of in-class training focusing on the areas of asset and liability management, bank leadership and community bank innovation. Between classroom sessions, each graduate completed six research projects that ranged from bank culture to fintech applications.
"For my strategic initiative I wrote about partnering with third-party vendors to improve efficiencies on our consumer lending program, increasing ease of access for customers, and centralizing consumer loan underwriting, Welch said."
Welch said probably the most valuable part of the experience was gaining fresh ideas and perspectives from community bankers all over the country.
"(GSBC) helped me to see how I could make larger contributions to the bank, and the Union State Bank Community, Welch said."
Welch is Chief Credit Officer and Executive Vice President for Union State Bank. Originally part of the Midland National Bank team which merged with Union State Bank in 2020, she has a combined thirteen years with the organization.
Founded in 1908, Union State Bank has banking locations serving communities of Arkansas City, Newton, Udall, Winfield and Wichita in Kansas and in Bartlesville and Edmond, Oklahoma. With total assets of roughly $600 million, Union State Bank offers a full range of electronic, deposit and cash management services, as well as business and agriculture, commercial real estate, construction, mortgage, residential and consumer loans.  To learn more, visit their website at www. MyUnionState.Bank. Member FDIC. Equal Housing Lender.